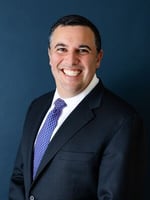 What do you think is the most important virtue?
As I gain more experiences, the more I realize the importance of trust. As an employee I trust that senior team members are leading individual deals and the firm in the right direction. As a manager I trust that Analysts and Associates are managing their time and asking questions if numbers or a process does not make sense. Finally, as an advisor, clients place a tremendous amount of trust in us that we have designed and will run an appropriate process to achieve the desired outcomes, while balancing the interests of the various stakeholders. Trust is at the very center of what we do every day.
How did you first get involved with ACG Boston?
I was introduced to ACG Boston very early in my career. Jan Shields served as the ACG Boston President for three years and was the first to show me the impact that the events and networking can have on our business. Another colleague was on the committee that launched what is now Deal Hunters and provided a comfortable environment to learn how to network with a group of peers. When I returned to Boston in 2012, I knew full-time membership was important as I begin the next stage of my career.
If you could play any instrument, what would it be?
I love music, always have. I began playing the piano in third grade and have learned to play the saxophone and some very bad guitar. I also love to sing. The only problem is I can't carry a tune in a bucket. I have even embarrassed my family during Christmas Eve carols. If I could learn to sing it would make me and my family a lot happier.
If you could eliminate one thing you have to do every day, what would it be?
Sleep. There are so many things I would do with that time, including spend time with friends and family, exercise, read, work on my short game, and improve my culinary skills. Just an hour a day for each of those five activities would be wonderful.
If you had a theme song that played when you walked in a room, what would it be?
I have been listening to "My Songs Know What you Did in the Dark (Light Em Up)" by Fall Out Boy. It's a good song to get the adrenaline flowing and was the song of the 2013 NHL Playoffs.
What is the best life advice you would share with someone?
I remember as a kid my dad saying "hard work plus desire equals success." One without the other won't get you there."